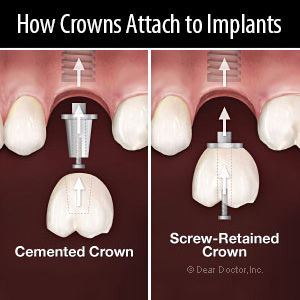 If you're in the initial planning stages for a dental implant, you may already be encountering a number of options to consider. One that may come up is how the visible crown will attach to the metal implant imbedded in the bone.
Generally speaking, implants are composed of two parts: a metal post most often made of titanium placed into the bone that serves as the "root" for the new tooth; and a visible, life-like crown made of dental porcelain that attaches to an abutment on the titanium post. The crown can be attached in one of two ways: either with a small screw through the biting surface of the crown into a receiving hole in the abutment or cemented to it.
The major advantage of a screwed crown is that it allows for easy removal of the crown if needed. While the titanium post can often last a lifetime, porcelain crowns more often need repair or replacement since they receive the brunt of the biting forces in the mouth. A screw-attached crown is much easier to remove than a cemented one.
On the other hand, screwed crowns have a small access hole that must be restored with a tooth-colored filling to help the crown appear natural. This isn't too great an issue with back teeth but does make achieving a natural appearance in the front more difficult. Cemented crowns look more like a natural tooth and are thus more flexible in achieving the desired appearance.
Besides the possibility the cement may cause gum inflammation or bone loss, the chief detraction from cemented crowns is the difficulty in removing them. Crowns are often damaged in this process so it's highly likely it will have to be replaced rather than repaired. It's possible to use weaker cement, but this raises the risk of the crown coming loose at some point from the abutment.
As we plan for your implant, we'll discuss which type of attachment will work best for you, depending on the tooth to be replaced and other conditions with your oral health. The end result, though, should be the same — a new, natural-looking tooth that serves you well for many years to come.
If you would like more information on dental implants, please contact us or schedule an appointment for a consultation. You can also learn more about this topic by reading the Dear Doctor magazine article "How Crowns Attach to Implants."
Dr. Arauz received his first dental degree (Doctor in Dental Surgery, D.D.S.) from the University of Panama in Panama City, Panama in 1997 and then his second dental degree (Doctor in Dental Medicine, D.M.D.) from Case Western Reserve University School of Dental Medicine in Cleveland, Ohio in 2004. He completed his specialty degree in Periodontology at the University of Rochester's world-renowned Eastman Dental Center in New York in 2002, and completed a two-year residency in advanced education in general dentistry (AEGD) and general practice residency (GPR) as well. While at Case Western Reserve University, he was an Assistant Professor in the Department of Periodontics and he taught to residents and dental students for five years. He was also Clinic Director of the residency in Periodontics, and directed courses in Implantology, Sedation, and Surgical Periodontics. Additionally, Dr. Arauz was a staff periodontist and consultant in periodontology and dental implants at the Department of Dentistry of the world-renowned Cleveland Clinic, and practiced periodontics and dental implantology in private offices located in Westlake, Lyndhurst and Mentor, Ohio. Dr. Arauz is a Board Certified periodontist, Diplomate of The American Board of Periodontology, and an active member of the American Academy of Periodontology, the Academy of Osseointegration and the American Board of Periodontology. The dental practice of Dr. Jose Arauz is limited to Periodontics, Implants, and Oral Medicine. He is fluent and proficient in English, Spanish and Portuguese. Dr. Jose Arauz, Jacksonville's dental implant specialist providing you the expertise you and need and the care you deserve - a world-class periodonitst near you!