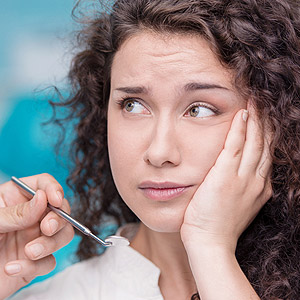 A toothache means you have tooth decay, right? Not necessarily — your pain could be signaling a number of potential causes. Determining where, how much and how often it hurts will help us find out the cause and apply the appropriate treatment.
A single symptom, for example, can mean many things. A twinge of tooth pain as you consume hot or cold foods might indicate localized tooth decay easily repaired by a filling. But it could also mean the tooth's root surface has been exposed as a result of periodontal (gum) disease — aggressive plaque removal and maybe even gum surgery might be necessary. Or it could be a sign of inner pulp decay: in this case you'll likely need a root canal treatment to save the tooth.
Pulp decay can also announce itself with a very sharp and constant pain radiating from one or more teeth. You shouldn't hesitate to see us for an examination — even if the pain goes away. Pain cessation most likely means the nerves in the pulp have died. The infection, however, still exists, so you'll still probably need a root canal treatment.
If you notice severe, continuous pain and pressure around a tooth, particularly about the gums, you may have a localized, inflamed area of infection called an abscess. An abscess can be the result of gum disease, but it might also stem from a foreign body like a popcorn husk, getting stuck below the gums. We'll need to conduct a complete dental examination to determine the cause and how to treat it.
Finally, a sharp pain when you bite down could mean many things such as a loose filling or a fractured (cracked) tooth. The latter especially requires immediate attention to save the tooth.
These are just a few of the possible causes behind mouth or facial pain. Although all of them are serious, a few are true dental emergencies and can't wait if we're going to save a tooth. The sooner you see us, the sooner we can help relieve the pain, minimize any damage and avert disaster.
If you would like more information on treating tooth pain, please contact us or schedule an appointment for a consultation. You can also learn more about this topic by reading the Dear Doctor magazine article "Tooth Pain? Don't Wait!"
Dr. Arauz received his first dental degree (Doctor in Dental Surgery, D.D.S.) from the University of Panama in Panama City, Panama in 1997 and then his second dental degree (Doctor in Dental Medicine, D.M.D.) from Case Western Reserve University School of Dental Medicine in Cleveland, Ohio in 2004. He completed his specialty degree in Periodontology at the University of Rochester's world-renowned Eastman Dental Center in New York in 2002, and completed a two-year residency in advanced education in general dentistry (AEGD) and general practice residency (GPR) as well. While at Case Western Reserve University, he was an Assistant Professor in the Department of Periodontics and he taught to residents and dental students for five years. He was also Clinic Director of the residency in Periodontics, and directed courses in Implantology, Sedation, and Surgical Periodontics. Additionally, Dr. Arauz was a staff periodontist and consultant in periodontology and dental implants at the Department of Dentistry of the world-renowned Cleveland Clinic, and practiced periodontics and dental implantology in private offices located in Westlake, Lyndhurst and Mentor, Ohio. Dr. Arauz is a Board Certified periodontist, Diplomate of The American Board of Periodontology, and an active member of the American Academy of Periodontology, the Academy of Osseointegration and the American Board of Periodontology. The dental practice of Dr. Jose Arauz is limited to Periodontics, Implants, and Oral Medicine. He is fluent and proficient in English, Spanish and Portuguese.
Dr. Jose I. Arauz - Jacksonville's Dental Implant Specialist. The Expertise You Need. The Care You Deserve.